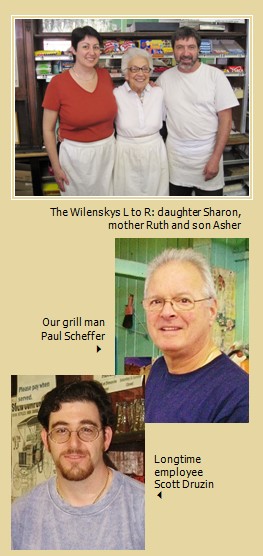 Wilensky's Light Lunch has not changed much since it opened in 1932. It is still owned by the Wilensky family, has much of the original decor and even some customers dating back to our first location! Many still remember Moe Wilensky, his wife Ruth, and their son Bernard who worked many years to make Wilensky's what it is today.

When people walk into Wilensky's for the first time, our pressed tin ceiling, Kik Cola clock, ring-up cash register, old fashioned soda fountain and seventy-plus-year old grills might make them think they have stepped into a time-warp, or at the very least, a museum. We do still serve food, however, and Asher Wilensky, Sharon Wilensky, Asher's daughter Alisa, long-time employees Paul Sheffer and Scott Druzin are waiting to take your order.

We are famous for our "Wilensky's Special®". Invented by Moe Wilensky, its beauty is in its simplicity: all-beef salami with all-beef baloney grilled to mouth-watering perfection on a tasty roll with a hint of mustard. And it's served piping hot and lightning fast!

What else is on the menu? We have tops and bottoms. Sound strange? They are beef hot dogs served open-face on either the top of an onion roll that has the onions on it, or the bottom, which doesn't. We also have chopped egg sandwiches and cheese sandwiches. They are made on our yummy rolls, too.

Our old-fashioned soda fountain is not just for decoration. We use it to serve up our home-made drinks. No brand-names here. Besides our most popular, cherry-cola, which our customers tell us is the best in the city, there are nine other flavours including cola, pineapple, root beer, cream soda, and even chocolate. You can combine flavours, too. Have a cherry-pineapple or a vanilla-cola. The creations are almost infinite. We also have a selection of diet drinks, milkshakes and egg creams.

Noshes include pickles and karnatzels and there is a selection of candy bars for dessert. For more information, click on the menu link.

When a business has been around a long time, it usually establishes some rules to keep things running smoothly. We believe in fast service and everyone being treated equally. That's why we have no tipping. Any change that a customer does leave on the counter is put into the Heart and Stroke Foundation box. What else do you need to know? Well, read the following carefully and, if you can follow the rules, we'll all get along just fine!
When ordering a Special,
you should know a thing or two.
It is always served with mustard;
it is never cut for you.
Don't ask us why; just understand
that this is nothing new.
This is the way that it's been done
since 1932.
We hope you enjoy your visit to our website. We look forward to seeing you soon at Wilensky's. You can also visit us on Facebook.